December 17, 2010
Keeping an eye to the future includes everything from new vehicles, new products, and even new enthusiasts.  This past Wednesday, December 15th, Steve Millen and the STILLEN crew delivered a modified Nissan Altima to the Coastline ROP Automotive Technology class at Laguna Hills High School.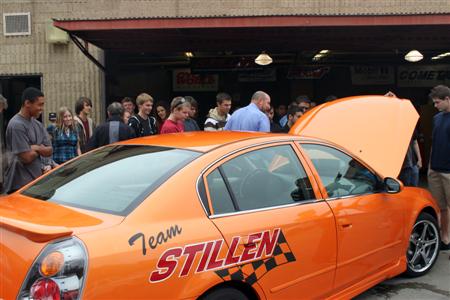 This car was one of the main display vehicles for Nissan when they released the new model Altima, and was also an R&D project and show car for STILLEN for many years.  The car has been outfitted with a long list of performance modifications, suspension improvements, brake upgrades, aesthetic enhancements by way of a body kit and custom interior.  The car is even sporting a 3 part paint job featuring Lamborghini Orange. Read more
December 11, 2010
STILLEN has added another application to the popular Front License Plate Bracket kits available for most Nissan and Infiniti vehicles with the inclusion of the new 2011 Nissan Juke!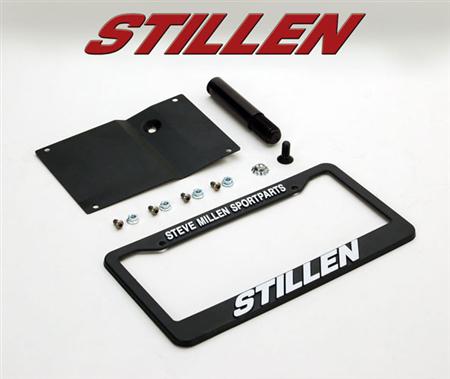 For all of you who don't want to have to drill the factory plastic license plate brackets into your bumper, damaging it and leaving you without options if you don't want to run a front license plate, this kit is for you.  This kit uses the factory tow hook on the front of the vehicle, which is accessible by a small removable panel in the fascia, and makes it easy to add or remove whenever necessary. Read more
November 19, 2010
News Release
For Immediate Release
 
STILLEN OFFERS RUGGED AP RACING BRAKE UPGRADE
FOR 2000-2010 GM 2500/3500 TRUCKS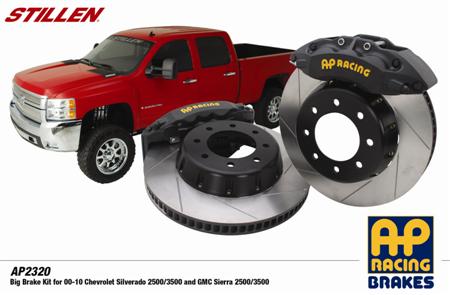 Costa Mesa, Calif.– STILLEN announces the availability of a new front and rear big brake system for the 2000-2010 Chevrolet Silverado 2500/3500 and GMC Sierra 2500/3500 (including Dual Rear Wheel models). This rugged, state-of-the-art brake upgrade is based on AP Racing brake technology, the number one choice for a wide range of professional race teams that compete at the highest levels (i.e. NASCAR, FORMULA 1).
 
Available from the STILLEN brake product division, these GM Truck brake upgrades Read more
November 11, 2010
Every year towards the end of October, teams from around the world gather together in Auckland, New Zealand to start the 5 day Dunlop Targa Rally.  The Targa Rally is a grueling test of man and machine that takes place over closed country roads that would normally be open to the public.  The roads get closed down for just a few hours, just long enough to funnel 100+ "rally" cars through.  Competitors arrive in all types of vehicles, from a Ferrari F430 World Challenge race car, a Maserati and a few Porsche GT3 super cars to WRC-prepared Subaru and Mitsubishi rally cars, and even the older classic cars come out in force, like the old Mark 1 Escort's and even a Datsun 240Z with a supercharged LS2 engine and sequential gearbox.  2010 however was the year of Godzilla.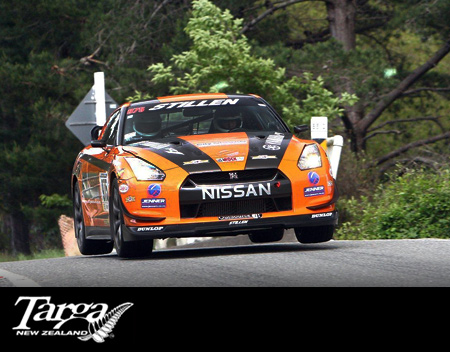 In the 2010 running of the New Zealand Dunlop Targa Rally there were four Nissan R35 GT-R's competing in the actual race, and one GT-R competing in the Targa "Tour", an event which takes place on the same closed roads and along the exact same route as the actual rally, the only difference being the Tour drivers are limited to a much lower top speed and do not compete for any sort of winner's prize.  The four GT-R's this year were piloted by some of the most experienced Targa Rally competitors, including Tony Quinn.  Tony has won 3 Targa's now and competes in Australia and New Zealand with his GT-R in numerous different Targa's each year.  Steve Millen took the STILLEN-prepared GT-R to the event Read more
October 29, 2010
Racing Day 5 Wrap Up!
I am in my hotel room writing this before Steve and Phillip get into the wharf for the final destination.  They have both done an amazing job and the entire team is very proud of the effort and hard work put in by all!  Steve pulled out some pretty miraculous skills this week and showed that he hasn't lost his edge.  Steve competes in very few of these rallies and really doesn't get much time to get back into the racing lifestyle anymore, so it took a day or two for him to feel fully comfortable with the car, but I'll tell you once he was in the zone he was a machine!  The in-car video footage and the photos tell the story better than I ever could!
 
The car has performed flawlessly all week and Mark and Joe have done a great job maintaining the car and making sure Steve and Phillip have exactly what they needed all week.  Jodi and Vivian (Phillip's wife) have been great team moms and looked after the service crew and the drivers better than anyone could have asked for.  We are all very happy to come home with the drivers and car all together in one piece and with a very Read more