June 1, 2011
We gave you the heads up earlier this month that we were in development of the STILLEN Protective Skid Plate for the new 2012 DBA-R35 GT-R's, and we're proud to announce that these have been completed and are now shipping!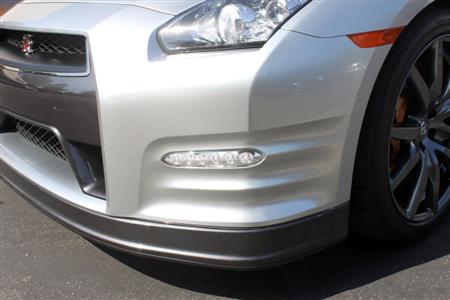 Here's the product text from the STILLEN website:
It's every GT-R owners worst nightmare, scraping the front bumper on anything from driveways, dips, speedbumps, and pulling into that parking spot with the raised curb and making contact.

.

STILLEN has developed a urethane Skid Plate which protects the OEM fascia and paint from scrapes and light bumps. This piece is specifically molded to the GT-R's front bumper, and installs with 3M automotive acrylic foam tape and self-tapping screws to the underside. Durable urethane construction ensures no cracking, and doesn't require painting, although can be color matched if desired.

.

As with all STILLEN urethane body components, these are proudly designed and made in the USA at our Costa Mesa, California facility.
February 28, 2011
STILLEN is proud to welcome another Infiniti Dealership into the family of dealers selling and installing STILLEN products. Infiniti Marin, located in the San Francisco Bay Area (San Rafael, CA), has a long-standing reputation for treating customers well, and providing quality sales and service of Infiniti vehicles.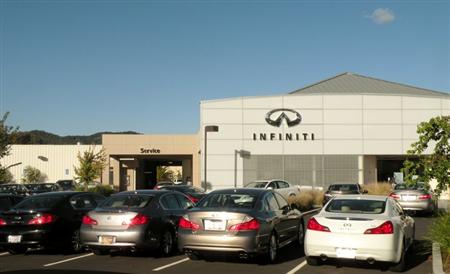 They have now expanded their offerings to include STILLEN performance products, joining the ranks of hundreds of dealerships across the country that recognize the quality and reliability of STILLEN-branded upgrades.

Infiniti Marin has a state-of-the-art installation and repair facility, and also provides expert painting and installation of STILLEN body components through their certified body shop. Take comfort in having your STILLEN performance products or body components installed by quality factory-trained technicians and a dealership comfortable with aftermarket upgrades.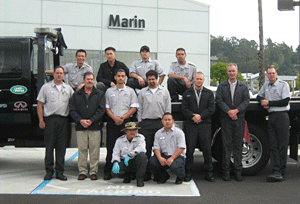 You can give their parts and service professionals a call at 800-314-1594 or drop by to visit their showroom and see some STILLEN products in person. Don't forget they also service and upgrade Nissan's as well!
January 7, 2011
One of the most common questions and fears we get from customers or potential customers is a valid one: "Will adding aftermarket parts void my warranty?"
It's a scary premise, and unfortunately one some uneducated dealerships seem to drill into their customers, that using non-OEM parts or upgrades will void the factory warranty, and leave you the new car owner to fend for yourself, without support from the vehicle maker.

Thankfully this isn't the case, and there is legislation in place to protect you, the consumer, from these types of situations.  The Magnusson-Moss Warranty Act was passed way back in 1975 to combat this exact subject, and ensure that you have the freedom to choose aftermarket parts and upgrades without having your warranty stripped or voided.
Dealerships and car companies are required to prove that any modification of the vehicle with aftermarket parts is the cause of the failure.   Read more
December 17, 2010
Keeping an eye to the future includes everything from new vehicles, new products, and even new enthusiasts.  This past Wednesday, December 15th, Steve Millen and the STILLEN crew delivered a modified Nissan Altima to the Coastline ROP Automotive Technology class at Laguna Hills High School.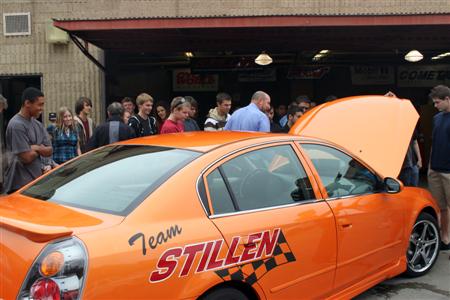 This car was one of the main display vehicles for Nissan when they released the new model Altima, and was also an R&D project and show car for STILLEN for many years.  The car has been outfitted with a long list of performance modifications, suspension improvements, brake upgrades, aesthetic enhancements by way of a body kit and custom interior.  The car is even sporting a 3 part paint job featuring Lamborghini Orange. Read more
December 11, 2010
STILLEN has added another application to the popular Front License Plate Bracket kits available for most Nissan and Infiniti vehicles with the inclusion of the new 2011 Nissan Juke!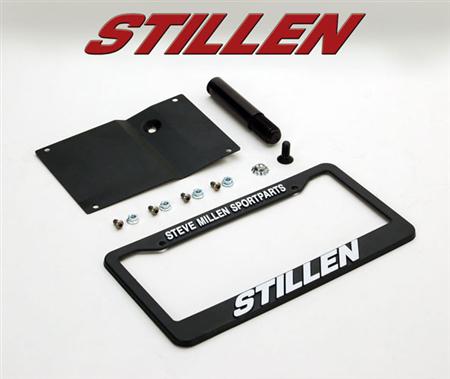 For all of you who don't want to have to drill the factory plastic license plate brackets into your bumper, damaging it and leaving you without options if you don't want to run a front license plate, this kit is for you.  This kit uses the factory tow hook on the front of the vehicle, which is accessible by a small removable panel in the fascia, and makes it easy to add or remove whenever necessary. Read more