June 27, 2011
Meet Paul and Robyn Mullen of Australia, who are taking a neat trip on the historic Route 66 from California to Chicago.  The Mullen's are recently married, and taking their honeymoon on the road, after purchasing the Ford Mustang we built and hitting the pavement hard on a multi-state US trip!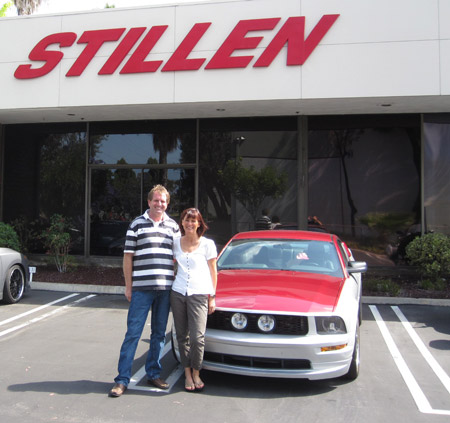 Paul Mullen and Steve Millen have known each other for years and years, with Paul heading up Black Magic Media, a television production company which has handled coverage on numerous New Zealand Targa Rallies Steve has raced in.  Read more
August 25, 2010
Nick is an avid Nissan enthusiast and he and I have been sharing emails back and forth for about a year now as we helped him take his standard Altima Sedan from stock to one-of-a-kind.  Nick has done a lot of work to this car and his passion shines through in every way!  We are extremely proud to say that a lot of the parts Nick has on his ride are STILLEN original parts or one of the many great vendors we carry.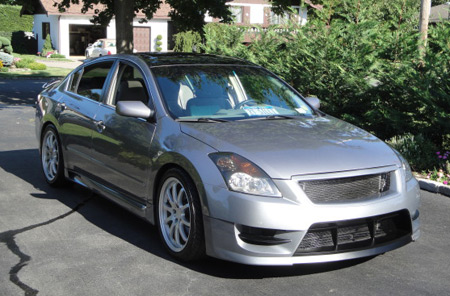 This Altima has been transformed from front to back and top to bottom!  Proving that even the smallest, subtle changes can make big impacts!  Here is the long list of modifications performed to the Altima. Read more
May 4, 2010
We have never been busier here at STILLEN, with the R&D department at full throttle, new products launching left and right (515hp 370Z/G37 Supercharger, 370Z Body Kit, just some of the recent launches), the sales team busy on the phones, and all of us putting the final touches on what is shaping up to be a great Open House event here this Saturday!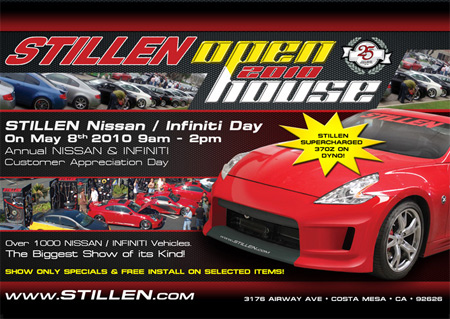 (High Resolution Version – Click Here)
We've been getting tons of feedback for our 25th year in business and are just as excited as the Nissan and Infiniti owners who are making the journey (from 5 different states!) out to the STILLEN headquarters this weekend to help us celebrate. We've done our part to make this event special.  In our previous post we've outlined some details of the event (and they are recapped below), and we're working hard to make this even even more special. Read more
February 27, 2010
Mark your calendars:  STILLEN's Open House Customer Appreciation Day is
May 8th, 2010!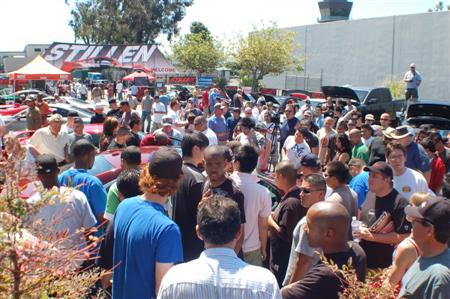 2009 brought some high highs and some low lows.  Through the tough economic times STILLEN pushed ahead with new products, new race programs and took the STILLEN prepared Nissan R35 GT-R to a first place finish in the Targa Newfoundland Rally.  All the while continuing growth saw the expansion of our manufacturing facility and more development out of R&D.
Development of that race program prevented us from being able to hold our annual Open House Customer Appreciation Day, but we are very excited to announce that 2010 will see the return of the highly anticipated event.  We would like to invite you to come down and celebrate our 25th year in business! Read more
January 12, 2010
Join us Saturday, January 16th at STILLEN as we host the first BIG Detail Clinic of 2010!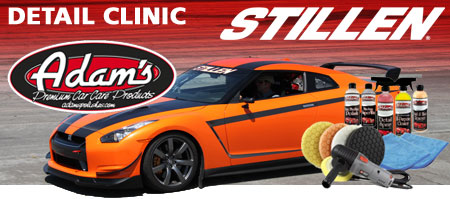 STILLEN relies on Adam's Polishes to keep all of our show cars looking the way they were meant to be, and we're opening up the shop to give our customers an up-close look at these detailing products in action. 
Adam's experts will be on hand, demoing Adam's most popular products, new detailing tools and accessories, and giving you first hand advice for getting the absolute best shine possible. Plus, there will be one-day-only special savings and FREE Adams's samples for all that attend.  Read more