December 10, 2013
STILLEN is proud to announce the 2011-2014 Nissan Juke all-wheel drive rear sway bar is now available.  The STILLEN 2011-2014 Nissan Juke AWD Rear Sway Bar is rear mounted and offers more rigidity than the factory rear sway bar to aid in cornering and vehicle stability.  STILLEN has designed this sway bar to be stiffer than the factory bar which will allow for better turn-in, rotation, and overall improved stability when pushing either a Nissan or Nismo Juke hard through canyon roads, on the track, or even trying to get to work in the morning!
A common complaint on all wheel drive vehicles is the experience of "understeer."  Understeer is where you are driving the car spiritedly and the car doesn't want to rotate through the turn.  Instead the front tires just "push" or "under steer."  By stiffening the rear suspension, the chassis will be more planted and allow the car to rotate better which gives drivers a more positive feel as they accelerate through turns.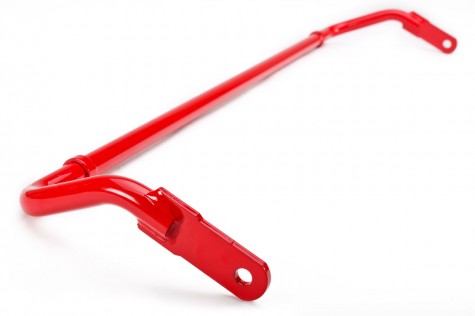 The STILLEN sway bar for the AWD Nissan & Nismo Juke is:
•    Made out of high-tensile strength steel.
•    Incorporates precision laser cut end link brackets.
•    Finished in a brilliant red powder coat finish.
•    Protects against corrosion and wear & tear.
•    Designed to keep the underside of the car looking great!
•    Backed with a STILLEN lifetime guarantee!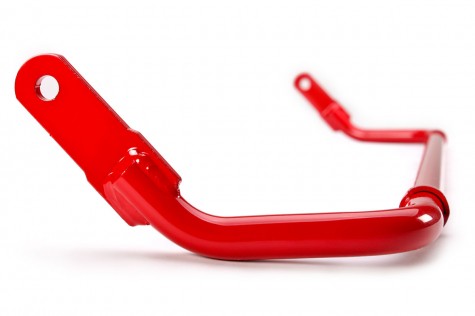 To speak with an expert and place your sway bar order, give us a call at (866) 250-5542. You can check out all the STILLEN Sway Bars we carry, or explore all the items we have for sale here at STILLEN.com. You can also schedule anything from a routine maintenance or install to a full scale racing build on the Performance Shop site.
February 8, 2012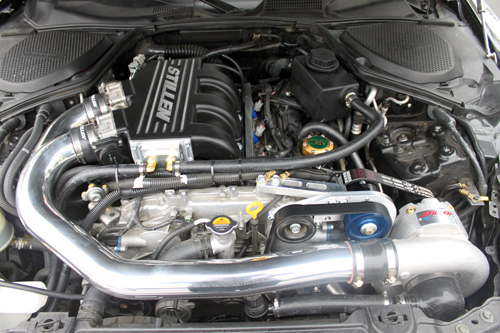 STILLEN is proud to announce the availability of the 2007-2008 350Z supercharger kit for the dual throttle body VQ35HR.
This supercharger system took over a year to develop and involves revolutionary designs to offer customers easy upgradability and installation. With this supercharger system, power is boosted to 450 horsepower (or 375whp).
Air to water intercooler: By redesigning the intake manifold we were able to incorporate the intercooler inside the manifold, thus allowing us to cool the air charge immediately before the air enters the engine. Additionally, the front mounted heat exchanger does not block the airflow supplying cool air to other vital coolers such as the radiator, engine oil cooler, transmission cooler, power steering cooler or the A/C condenser. Because water is 4 times more efficient at dissipating heat than air, we are able to utilize a more compact heat exchanger to cool the water.

** Individual results will vary based on the baseline of the stock engine, type of dynamometer used, temperature, elevation, fuel and various other factors.
September 7, 2011
For over 25 years STILLEN has been recognized as a leader in Nissan/Infiniti tuning. With a history of setting "first time" milestones in the aftermarket for these great vehicles, STILLEN has established themselves as the company to follow when it comes to Nissan and Infiniti product development. STILLEN was the first company to develop the HICAS eliminator system for the 300ZX Z32 platform. When the Z33 350Z was introduced, STILLEN was once again the leader with the first forced induction solution, as well as the first to offer CARB legality, and AGAIN the first with a 3-year/36,000 mile engine warranty.
Well, STILLEN has done it again as Team STILLEN is proud to announce the CARB approval of the Nissan 370Z (Z34) G37 Supercharger Kit.

STILLEN has not only been the first company to achieve CARB legality of a forced induction solution on the VQ37, we have also been the first company to achieve such an accomplishment while tuning through Nissan's sophisticated ECU with larger injectors. This is a major accomplishment for Team STILLEN and one that will join the many other first time landmarks STILLEN has achieved in the Nissan/Infiniti tuning world.

CARB (California Air Resources Board) is the division of the California state government that controls all aspects of air quality and standards. With standards getting stricter it is getting more and more difficult to achieve CARB legality. CARB is recognized as the toughest emissions control in the country and is therefore recognized in all 50 states as an emissions standard for all performance parts. If a performance part achieves CARB legality, it is recognized as 50-state legal.

The power the STILLEN Supercharger system delivers is dramatic, taking the factory 3.7L V6 from 332hp to over 500hp! The system is designed to work with both automatic and 6-speed vehicles, including convertible and AWD models.

The STILLEN VQ37 Supercharger features a new cast aluminum intake manifold engineered specifically for this kit, complete air-to-water intercooler system, and boost is derived from a Vortech V-3 Supercharger unit. The V-3 features a quiet V-belt design, and a self-contained oiling system for easy maintenance.

In the past year STILLEN has shipped supercharger systems around the world. Fantastic reviews and reports are coming in from:
Australia
New Zealand
Singapore
Russia
Thailand
Korea
Canada
Switzerland
Taiwan
France
Unite Arab Emirates
China
Hong Kong
United Kingdom
Not to mention all of the kits that have been installed with great success across the United States at Nissan/Infiniti dealerships and performance shops. This is a bolt-on system, capable of being installed by any qualified ASE-certified automotive performance shop, or at hundreds of Nissan and Infiniti dealerships across the country, or right here at STILLEN at our in-house install facility.
Once again, STILLEN has successfully accomplished all of its goals with another great forced induction solution for the Nissan/Infiniti vehicles.
STILLEN 3.7L Supercharger System Features Include:
Vortech V-3 Centrifugal Supercharger Unit
STILLEN purpose designed cast aluminum intake manifold with long runners for increased torque
Installs under the stock hood – No modifications needed
Complete system includes pre-assembled Vortech V-3 supercharger assembly, air intake with polished air charge pipe and genuine K&N intake filters, fuel injectors, air-to-water intercooler, UpRev ECU Tuning cable/software and detailed installation instructions.
Made in the USA
50-State Emissions Legal (E.O. Number D-436-17)
About STILLEN
STILLEN, located in Costa Mesa, CA, is a premier manufacturer and distributor of a select line of high performance products for late model import and domestic vehicles — developed by enthusiasts for enthusiasts. Founded in 1986 by renowned professional driver and race car builder, Steve Millen, STILLEN incorporates cutting edge race proven technology and advanced aerodynamic designs into the company's proprietary performance and appearance product lines. Millen is known worldwide for achieving the greatest number of wins in IMSA GT history during the course of an impressive racing career that spans 30 years and numerous wins in series around the globe – from Le Mans to the 24 Hours of Daytona. Still family owned and operated, STILLEN branded products include exhaust systems and components, superchargers, fuel systems and components, brake kits and components, and urethane body styling products. The company's race heritage and continued participation in motorsports has added special focus on motorsports proven R&D, manufacturing processes and materials, and expert, enthusiast-based customer support, distinguishing STILLEN in the field of performance manufacturers. In addition, STILLEN is an online reseller of many high performance products for late model cars and trucks, import and domestic, and creator of unique, one-of-a-kind performance project vehicles.
August 10, 2011
Continuing in the development of body kit components for the new Camaro, STILLEN is proud to announce the availability of our newly designed Polyurethane Lip Spoiler!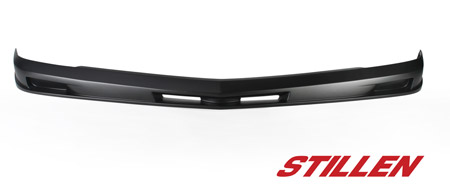 The STILLEN Camaro SS Lip Spoiler adds aggressive styling while keeping the flow and design of the new body style.  Set your Camaro apart from the rest with this bolt-on lip!
Urethane has significant benefits over fiberglass, most notably with the subtle flexibility like the OEM body, versus the rigidity found with fiberglass.
As with all STILLEN urethane body components, this lip was designed and developed at our in-house studio in Southern California. STILLEN body components come ready to prep and paint, and also include installation instructions Read more
June 1, 2011
We gave you the heads up earlier this month that we were in development of the STILLEN Protective Skid Plate for the new 2012 DBA-R35 GT-R's, and we're proud to announce that these have been completed and are now shipping!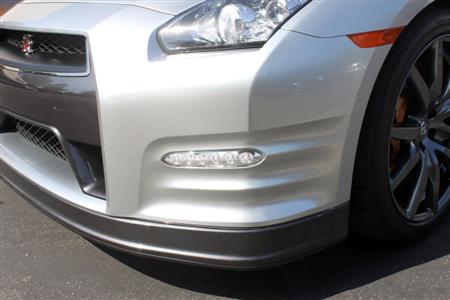 Here's the product text from the STILLEN website:
It's every GT-R owners worst nightmare, scraping the front bumper on anything from driveways, dips, speedbumps, and pulling into that parking spot with the raised curb and making contact.

.

STILLEN has developed a urethane Skid Plate which protects the OEM fascia and paint from scrapes and light bumps. This piece is specifically molded to the GT-R's front bumper, and installs with 3M automotive acrylic foam tape and self-tapping screws to the underside. Durable urethane construction ensures no cracking, and doesn't require painting, although can be color matched if desired.

.

As with all STILLEN urethane body components, these are proudly designed and made in the USA at our Costa Mesa, California facility.