May 13, 2011
STILLEN is proud to announce the availability of the VQ37 supplemental warranty for the STILLEN 500HP Supercharger System!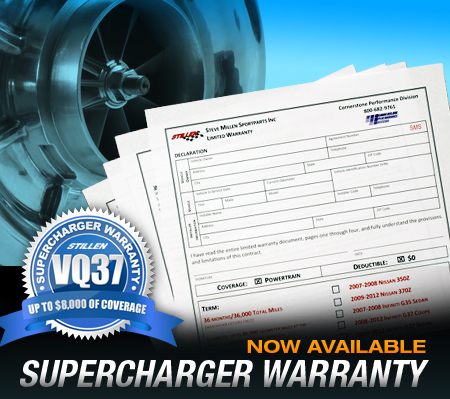 The VQ37 Supercharger supplemental warranty program is available as a 3-year/36,000 total mile term (whichever occurs first), with liability coverage of up to $8,000.  This coverage warrants engine components (including the STILLEN Supercharger), transmission and rear axle components.  The supplemental warranty is valid in the United States and Canada, has a $0 deductible, and is available for $395.
One of the biggest concerns we hear from our customers is the worry of voiding their warranty with the use of aftermarket parts, and we've outlined some information in previous posts regarding this subject, and with the combination of an engine/drivetrain warranty, can give solid piece of mind.
For more information, please contact your STILLEN representative at 866-250-5542.
May 11, 2011
One of the more popular products we make for the Nissan GT-R has been the polyurethane Protective Skid Plate, and with the changes to the new 2012 GT-R's front lip, this required a new skid plate to be designed. Proud to announce we are in final development of the new version for the new model!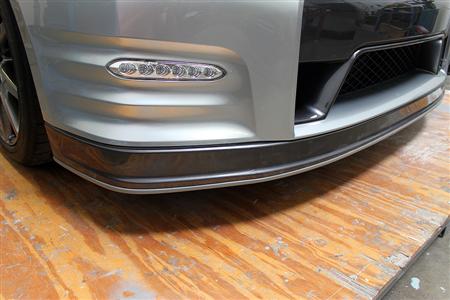 Here's a sneak peek inside the STILLEN modeling shop located in Costa Mesa, CA, and shows the final piece test fitted on the car before we sent it into mold preparation.  The final production part will be black urethane, sprayed with a black matte paint, and can also easily be painted to match any specific color if desired. Read more
April 6, 2011
Last month we brought you the information on the new high end Goodridge Phantom Gstop Brakelines, and as these are arriving soon, we wanted to get the word out, and get these in the hands of our customers, so we're giving away 2 sets for free!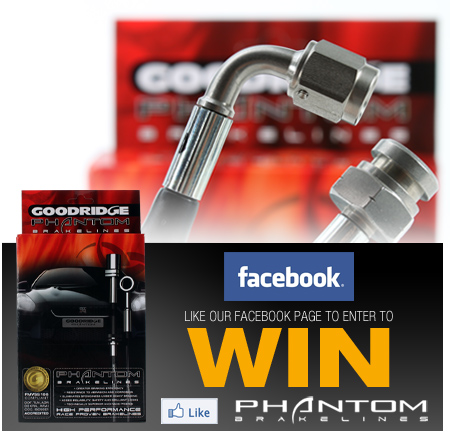 Simply head over to the STILLEN Facebook page, give us a 'Like' and you'll have access to the entry form on the Sweepstakes tab, just pop in your information and you'll be entered to win.  We'll be picking a winner on April 15th, and again on April 30th!
The Phantom Brakelines are new from Goodridge, and are designed to replace the factory rubber brake lines on your car, improving safety, reducing stopping distances and deliver a much better brake pedal feel, just like the popular Goodridge Gstop Brakeline kits.  The Phantom series upgrades the hardware and fittings to stainless steel, features a black coating on the stainless steel lines, a beautiful upgrade, and we couldn't encourage our customers more to consider upgrading your brake lines if you haven't already, it's an inexpensive upgrade that has huge benefits.
Good luck!  You can read the full giveaway rules here.
March 29, 2011
Just some quick pictures of some Password:JDM GT-R dry carbon pieces for a STILLEN customer, being consolidated with some other items for shipping.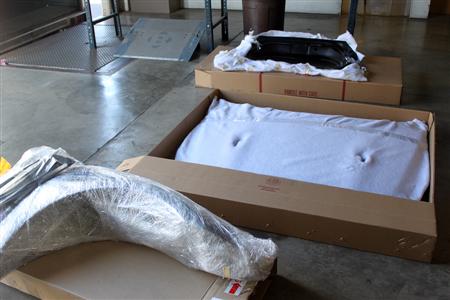 Inspection of these ultra lightweight parts really shows the quality that goes into them, and packaged well.
The widebody fenders in the front allow for the GT-R to run Read more
March 4, 2011
Goodridge has released information on their new limited edition Phantom Gstop Brakeline kits available for popular selected applications. For the ultimate brake line upgrade, look no further!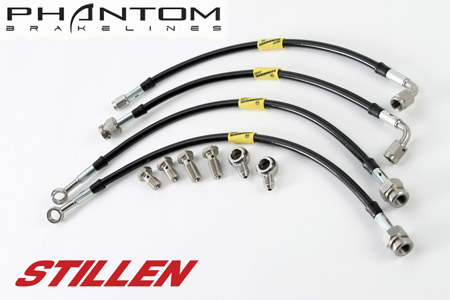 Upgraded stainless steel brake lines are one of the easiest modifications to make and get tangible results from.  Installing Goodridge G-Stop SS lines will dramatically improve brake pedal feel, eliminate the soft spongy feeling, and improve braking performance and reducing stopping distances.
The Phantom G-Stop kits take that performance and kick it up a notch, utilizing stainless hose ends, banjos and bolts, as well as feature black poly-coating to the stainless steel hoses.  Even the brackets and hardware are protective coated, creating a superior appearance, and ensuring durability. Read more