December 10, 2013
STILLEN is proud to announce the 2011-2014 Nissan Juke all-wheel drive rear sway bar is now available.  The STILLEN 2011-2014 Nissan Juke AWD Rear Sway Bar is rear mounted and offers more rigidity than the factory rear sway bar to aid in cornering and vehicle stability.  STILLEN has designed this sway bar to be stiffer than the factory bar which will allow for better turn-in, rotation, and overall improved stability when pushing either a Nissan or Nismo Juke hard through canyon roads, on the track, or even trying to get to work in the morning!
A common complaint on all wheel drive vehicles is the experience of "understeer."  Understeer is where you are driving the car spiritedly and the car doesn't want to rotate through the turn.  Instead the front tires just "push" or "under steer."  By stiffening the rear suspension, the chassis will be more planted and allow the car to rotate better which gives drivers a more positive feel as they accelerate through turns.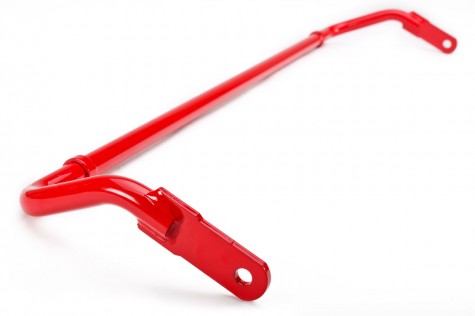 The STILLEN sway bar for the AWD Nissan & Nismo Juke is:
•    Made out of high-tensile strength steel.
•    Incorporates precision laser cut end link brackets.
•    Finished in a brilliant red powder coat finish.
•    Protects against corrosion and wear & tear.
•    Designed to keep the underside of the car looking great!
•    Backed with a STILLEN lifetime guarantee!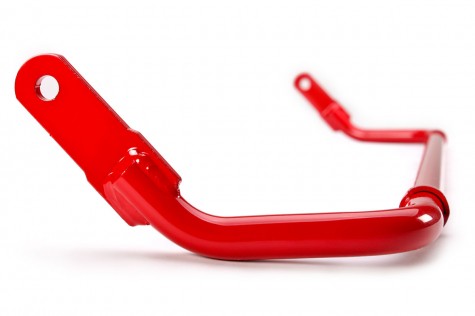 To speak with an expert and place your sway bar order, give us a call at (866) 250-5542. You can check out all the STILLEN Sway Bars we carry, or explore all the items we have for sale here at STILLEN.com. You can also schedule anything from a routine maintenance or install to a full scale racing build on the Performance Shop site.
October 17, 2013
The number of Nissan Infiniti Canadian STILLEN dealers keeps increasing and quite a few of them have been customizing some great cars with STILLEN products. Of the Canadian STILLEN dealers, Tony Graham Infiniti Nissan in Nepean, Ontario, is no exception. Not only do they carry and display STILLEN product right in their showroom, but the team at Tony Graham uses STILLEN aftermarket parts to modify and customize their vehicles, most recently, a 2014 Nissan Juke and a 2014 Infiniti Q60 S AWD.
In a growing number of Nissan and Infiniti dealers like Canada's Tony Graham Infiniti Nissan, you can walk right into the showroom and see the latest STILLEN products available for your vehicle.
STILLEN Equipped 2014 Infiniti Q60 S AWD
The STILLEN Generation 3 Ultra Long Tube Dual Intake Kit is a cold air intake that allows for optimum cold air flow resulting in a significant increase in horsepower and torque. Combine this cold air intake with the STILLEN stainless steel cat-back exhaust system for the 2014 Q60 S and you will unleash even more power out of the VQ37 motor while generating an authoritative, yet pleasing, exhaust tone.
2014 Infiniti Q60 S AWD Aftermarket Parts Include:
20″ Infiniti Accessory Wheels with Toyo Proxes 4 Plus Tires
Genuine Infiniti Midnight Black Grille
STILLEN Equipped 2014 Nissan Juke
The STILLEN 2014 Nissan Juke Cat-back exhaust system is a mandrel bent, stainless steel system that not only looks and sounds good, but has shown dyno-proven increases in horsepower and torque.
The Tony Graham crew did a beautiful job adding a few subtle exterior touches, including new 18″ SPYN Wheels, Eibach Pro-kit lowering springs and a carbon fiber wrap on the hood, side mirrors and rear spoiler.
2014 Nissan Juke Aftermarket Parts Include:
Eibach Pro-Kit lowering springs FWD (also available for AWD)
18″ SPYN Alloy wheel and Yokohama tire package
Genuine Nissan Accessory Spoiler
Custom Carbon Wrap on Spoiler, Hood and Mirrors
Canadian STILLEN Dealer: Tony Graham Infiniti Nissan
Weather you purchase a vehicle from Tony Graham Infiniti Nissan already equipped with STILLEN performance parts or bring your vehicle in to their top notch service center for an install, you can rest assured knowing that this Canadian STILLEN dealer is aftermarket friendly and will give your modified car the treatment it deserves.
If you are in the Ontario area looking pick up STILLEN product from one of our Canadian STILLEN Dealers, visit our good friends at Tony Graham Infiniti Nissan for all your STILLEN performance part and accessory needs.
Tony Graham Infiniti Nissan
2185 Robertson Rd
Nepean, Ontario
K2H 5Z2
(613) 596-1515
http://www.tonygrahamnissan.com/
http://www.tonygrahaminfiniti.com/
Twitter: @TonyGrahamAuto
Facebook: www.facebook.com/tonygrahaminfinitinissan
All photos courtesy of Tony Graham Infiniti Nissan
September 9, 2013
The Nissan Titan has a lot of strengths, but as countless owners know, one of them is not the factory OEM radiator.  It's combination of aluminum and plastic end tanks do one thing really well, and that is crack, dumping all of the engine coolant, leaving you helpless and stranded.  Getting towed to the dealership, paying upwards of $600 for a new radiator and you're on your way right? Until it happens again, the plastic end tanks cracking and emptying the cooling system on the ground below.
STILLEN has long been the solution to the failing Nissan Titan radiators for years, designing and having CSF Radiators produce an all-aluminum 2-row performance radiator, which has been a lifesaver for Titan owners stuck replacing their radiators over and over again.  And we've improved things once again!
Meet the STILLEN Nissan Titan 3-Row All-Aluminum Performance Radiator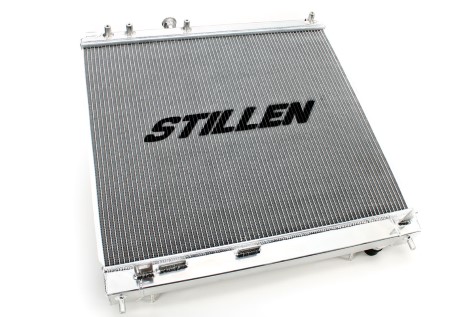 In 2013 STILLEN has has redesigned a brand new drop-in replacement radiator for the 2004-2013 Nissan Titan, Armada and QX56.  This new radiator features a 3-row thick core, and holds twice as much coolant as the factory radiators!  The construction is all-aluminum, and designed to improve reliability, airflow, total cooling and also comes with an internal transmission oil cooler just like the OE unit.  The STILLEN Radiator is designed to be an easy installation, with drop-in fitment like the factory unit, and features a 2-year warranty.
Even with all of these improvements for the 2013 version, we were able to keep the price identical to the 2-row version!
Click Here to visit the STILLEN website and purchase the STILLEN Nissan Titan Radiator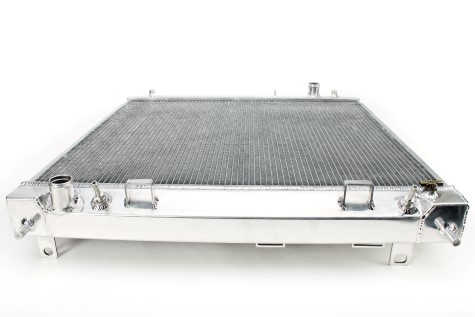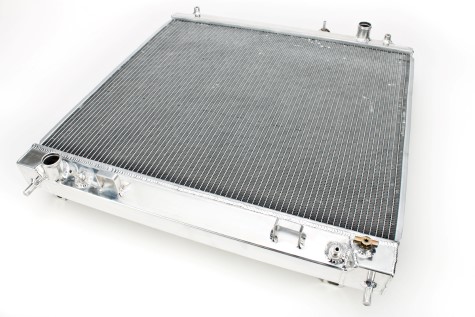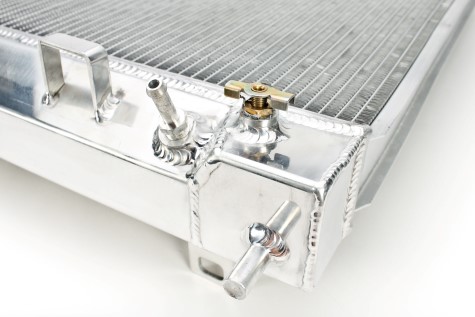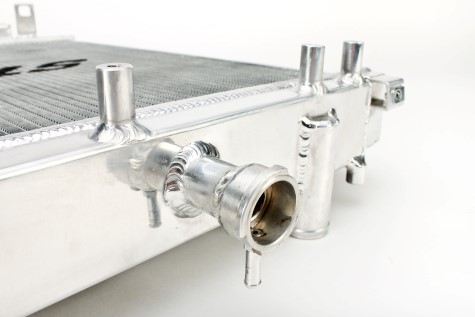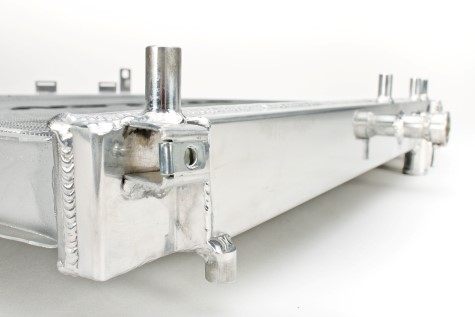 July 17, 2013
When a car is just done right, there's that jolt that seems to travel directly from your eyeballs to your brain when you see it, causing you to mouth the word 'whoa…'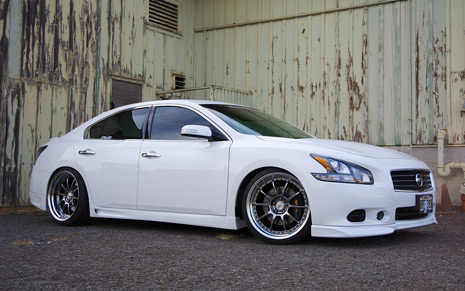 Such is the case with STILLEN customer Alden Arneson and his 2011 Nissan Maxima SV Sport, taking advantage of almost every product STILLEN manufactures for the 7th Generation Maxima and showcasing what a cleanly modified Max can achieve to be.. and he's not done yet!  Alden worked closely with our dealer Revision Audio near his hometown in Hawaii to make his dream a reality.
Alden's Maxima takes everything into account.. Full STILLEN polyurethane body kit, performance products including a cold-air intake and stainless catback exhaust system, suspension system featuring coilovers, sway bar and braces, and what most people seem to forget when building a high performance vehicle, a complete AP Racing big brake upgrade by STILLEN.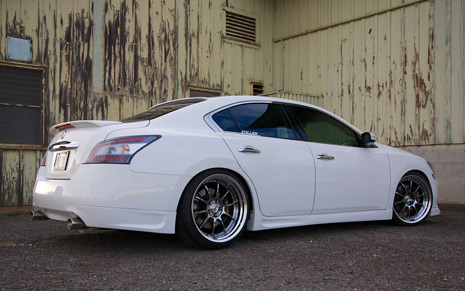 Maxima Modification List
STILLEN Polyurethane Rear Diffuser (On Order)
Megan Racing Coilovers
We asked Alden about his build, why he chose the Maxima, and what he has planned next, and here's his thoughts:
I became interested in the maxima after I had seen the new body style.  I loved how aggressive it looked.  After I took it for a test drive, I was sold.  At first, I told my self that I wasn't going to mod this car.  I previously owned a fully built Mitsubishi Galant.  I was always into building something different.  Needless to say, I got bored.  I decided that I would just drop the car and be done with it.

Well, then came the rims.  The addiction had started again.  I began to look around for parts.  I knew that STILLEN had been making Nissan parts for a long time.  To my amazement, I found a whole bunch of parts for the Maxima.  I knew that I had to have everything that was out there for this car.  Fast forward about a year and the project is still going.  My future plans include a full air bag suspension setup from AirRunner systems.  A full custom audio setup is also in the works currently.

Just want to thank STILLEN for making awesome parts.  I hope there are more in the works.  I also wanna give a shout out to Revision Audio.  They have pretty much built my car from the bottom up.  Special thanks to Samson Mak, Derek Katayama, and Todd Oya for all of your help.
June 28, 2013

STILLEN is pleased to announce new performance parts and accessories available for the 2013 Nissan Juke Nismo. The Nismo edition of the Nissan Juke is a new option for 2013 with both upgrades in styling and performance.
---
Nissan Juke Nismo Axle-back Exhaust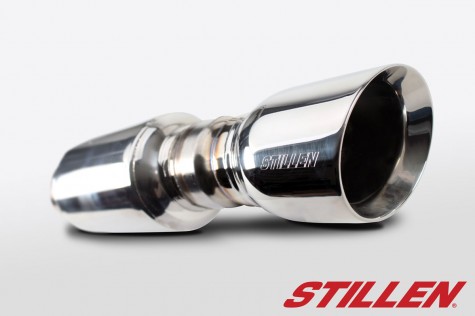 The Nissan Juke Nismo Axle-back Exhaust system bolts on to the stock mid pipe and has seen a power increase of 12 horsepower at the wheels! Constructed from 304 Stainless Steel, the polished rear section exhaust is built to last and comes with a limited lifetime warranty. Fits both FWD and AWD Juke models.
---
Nissan Juke Nismo Cat-back Exhaust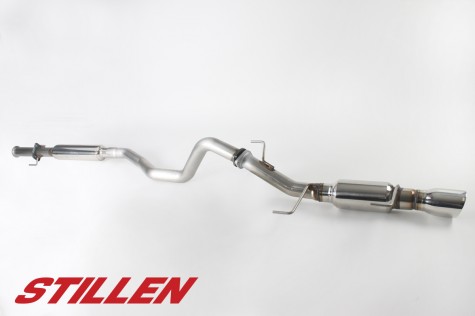 The mandrel bent, 304 Stainless Steel constructed Nissan Juke Nismo Cat-back Exhaust combines the STILLEN Axel-back Exhaust and the STILLEN Mid-pipe for up to a 20 horsepower increase at the wheels! Like all other STILLEN exhaust systems, the Juke Cat-back exhaust also carries a limited lifetime warranty. Fits both FWD and AWD Juke models.
---
Nissan Juke Nismo Front Strut Tower Brace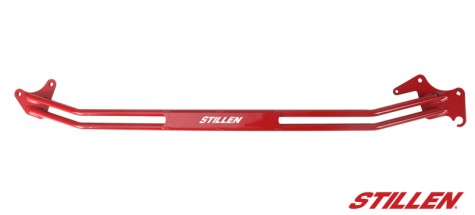 The Nissan Juke Nismo Front Strut Tower Brace is a simple bolt-on that noticeably improves handling and chassis rigidity. This reduces body roll and makes for a more enjoyable drive. Will NOT work with Injen Short Ram Intake.
---
Nissan Juke NIsmo Injen SP Series Short Ram Intake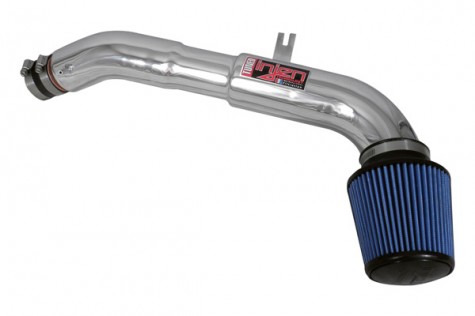 Nisaan Juke Nismo Injen SP Series Cold Air Intake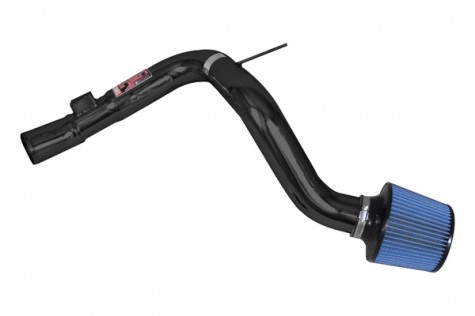 These Nissan Juke Nismo SP Series Intake Systems from Injen feature a patent pending MR technology process for optimal power increase and a safe air/fuel ratio. Injen SP Series is the world's first tuned intake system and is made in the USA. Both Short Ram and Cold Air options come standard with dry filters for easy cleaning and are available in both polished and black finishes.
---
Nissan Juke Nismo Axle-back Exhaust – FWD 508195
Nissan Juke Nismo Axle-back Exhaust – AWD 508190
Nissan Juke Nismo Cat-back Exhaust – FWD 508196
Nissan Juke Nismo Cat-back Exhaust – AWD 508191
Nissan Juke Nismo Front Strut Tower Brace – 307060
Nissan Juke Nismo Injen SP Series Short Ram Intake – Polished SP1902P
Nissan Juke Nismo Injen SP Series Short Ram Intake – Black SP1902BLK
Nissan Juke Nismo Injen SP Series Cold Air Intake – Polished SP1900P
Nissan Juke Nismo Injen SP Series Cold Air Intake – Black SP1900BLK
For more information on any of these products for the 2013 Nissan Juke Nismo, please give us a call at (866) 250-5542 or visit www.stillen.com