February 9, 2012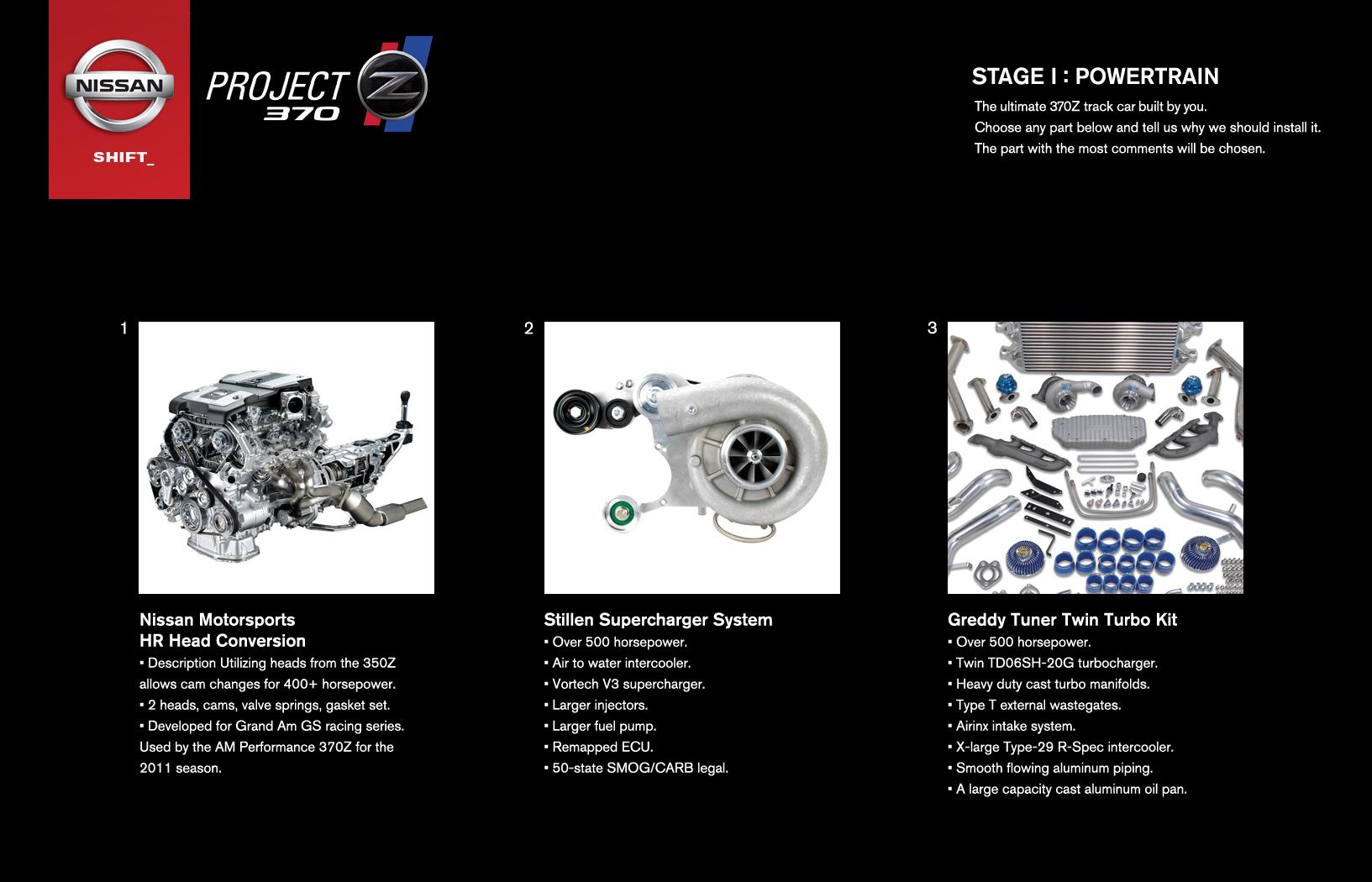 The race is on! Nissan Performance is building a 370Z based on feedback on their facebook page. Check their wall for the post with the picture above and leave a vote for STILLEN.
February 8, 2012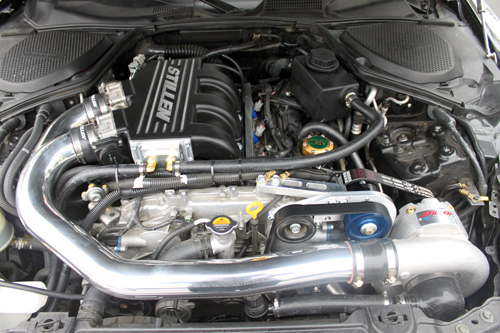 STILLEN is proud to announce the availability of the 2007-2008 350Z supercharger kit for the dual throttle body VQ35HR.
This supercharger system took over a year to develop and involves revolutionary designs to offer customers easy upgradability and installation. With this supercharger system, power is boosted to 450 horsepower (or 375whp).
Air to water intercooler: By redesigning the intake manifold we were able to incorporate the intercooler inside the manifold, thus allowing us to cool the air charge immediately before the air enters the engine. Additionally, the front mounted heat exchanger does not block the airflow supplying cool air to other vital coolers such as the radiator, engine oil cooler, transmission cooler, power steering cooler or the A/C condenser. Because water is 4 times more efficient at dissipating heat than air, we are able to utilize a more compact heat exchanger to cool the water.

** Individual results will vary based on the baseline of the stock engine, type of dynamometer used, temperature, elevation, fuel and various other factors.
January 9, 2012
Our friends over at Newmarket Infiniti/Nissan in Ontario, Canada have made getting quality aftermarket parts straight from the dealership possible for Nissan and Infiniti owners in Newmarket.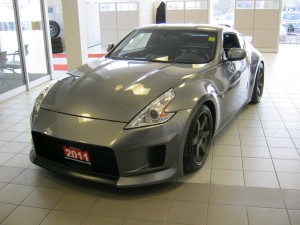 These 370Z's don't just look fast, they are fast; outfitted with Stillen performance cat back exhausts, Gen III intakes and more.
Newmarket Infiniti Nissan is a fully authorized Stillen performance center, offering a full line dealer of all Infiniti and Nissan models.
If you have a Versa, 307Z, G37 M37 or anything in between, Newmarket will make it look great and go fast.
Call Tom in the parts department at (905) 895-8785 and he will get you all the STILLEN style and power you need!
To make your 370Z look like this, pick up the STILLEN 370Z Fascia or Full Body Kit.
December 15, 2011
Few things stick out in my life as such happy times as ripping open the giant Slot Car box at Christmas with the TYCO logo and the huge "Zero Gravity Cliff Hangers" or            "US1 Trucking" emblazoned on the side, shoving aside other gifts and wads of torn and crumpled wrapping paper to clear enough room and take over the living room.
Getting the track set up, plugged in, the hum of the power supply, finally jamming a finger down on the trigger and watching the little car shoot down the track at what seems like 900mph with tiny sparks visible under the chassis, not having a chance in the world at making the turn and spiraling off somehow getting airborne and disappearing in the depths and darkness behind the Christmas tree in the corner.. Controller surprisingly hot in my hand and a curl of smoke coming up through the vents..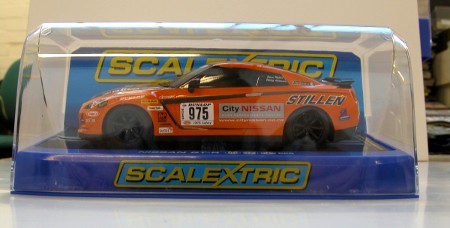 For those who hung on to those good times and continued on with Slot Car Racing, no doubt Scalextric is a name you've heard of and trust. They specialize in bringing realistic vehicles to the slot car world, and this year they've taken on recreating the STILLEN R35 Nissan GT-R in striking detail.
The Nissan GT-R is done in a 1:32 scale, and even be modified just like the real thing, changing anything from tires to gears to swapping motors. Check out the detail in the pictures below:
Steve Millen and STILLEN have a history with Scalextrix, as they also did the STILLEN Ford GT a couple of years back after it competed in the New Zealand Targa:
So if you are a slot car enthusiast, or know of one, this is a perfect Christmas item to add to the vehicle fleet!
October 29, 2011
Well, the week long Targa rally has come to a close here inNew Zealand.  It was a great week and Steve and Jen did a very good job.  Before arriving for the start of the week we installed larger fuel injectors, a new tune, and some stiffer springs in the shocks.  We figured this would be a fairly natural and reliable progression.  We had no idea what the other GT-R teams had in store!  Tony Quinn arrived with bigger turbos and an engine that had been bored and fitted with larger pistons, 410mm brake rotors and more.  Proctor had a stroker motor with stock turbos as well as larger brake rotors.  Steve said that as Proctor's GT-R launched off the line he would spin all four wheels.  Dodson's R35 also came in with heavy modifications and increased horsepower.  Last year, we were all on a similar playing field and ran tight all week.  This year everyone brought the big guns.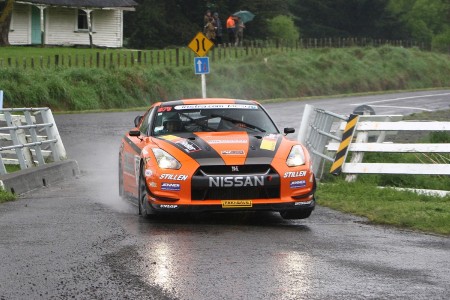 Steve and Jen pushed hard all week and were able to bring the car home with a fourth place finish.  The event winner, Tony Quinn in his R35, won the event for his fourth time.  Glenn Inkster in his high horsepower Mitsubishi Evo 6 came home in second place just a few seconds behind Quinn despite having a couple of offs and having to take a tire penalty.  Glenn Smith rounded out the top 3 in his 600+ horsepower Mitsubishi Evo X which looked like it had just come out of a video game!
Steve was pushing hard the last day of competition and had a bit of an off.  He was able to carry on with the stage and never actually stopped moving.  We don't think he lost more than a few seconds after it was all said and done.
These Targa rallies are a great way to test as well as develop new products.  This year we brought down a few new STILLEN products like adjustable camber arms and some other performance components as well as the new generation Dunlop Sport Maxx tires.  These Targa events are run on roads that would normally be open to the public so you can really see how the parts are going to perform in all conditions in the real world.  The new Dunlop tires are an amazing tire and proved to work well all week long.  In an event like the Targa where you only get 8 tires to last the week it's important that your tires will offer supreme grip without wearing too quickly.  The Dunlop Sport Maxx tires worked great in the wet and dry conditions all week long!
The 2011 Targa New Zealand rally ran the way these rallies are supposed to be run.  There were hot days, there were rainy days, and all in all it was a lot of fun!  Steve and Jen did a great job and really fought hard for a top five finish!  On the drive North after the rally was over we had already started planning for next year and coming with ways to improve the car to make it even more competitive for next year!  We have some pretty wild ideas forming and we're excited to show you all what we come up with!
Check out the video below for a taste of the action, and more photos below!
httpv://www.youtube.com/watch?v=XUYTzOKVisI
All 2011 Targa New Zealand Coverage
================================================