The time has come for us to wave goodbye to the STILLEN GT-R (look for a final specifications list and final build info soon) as it makes the long journey on its way to the 2009 Targa Newfoundland Rally.  We loaded the car on to the FedEx Custom Critical Transporter on Monday afternoon.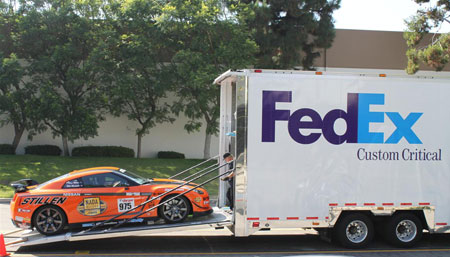 The car was placed in the capable hands of Mike and Cindy White, a husband and wife team from North Carolina who have been hauling custom vehicles and race cars around the country for more than 30 years.  They now work for FedEx and maintain a beautiful tractor/trailer rig.
It was actually pretty impressive.  During the 30 minutes or so it took to do all the inspections and paperwork and loading we noticed about ten FedEx vehicle's coming and going around our block.  Everything from Freight services to the smaller delivery vans and of course the large vehicle transporter parked right in the center of the street.  FedEx is definitely busy these days.  All of our spares will be picked up in the next day or two and readied for shipment as well.  Those items will be traveling with FedEx freight directly in to Canada.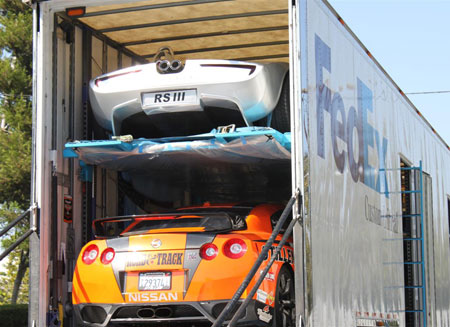 There was a cool surprise already on the rig in the form of a Veritas RS III supercar, further proof that we had chosen the right folks to make the country-wide transport with the GT-R.
The GT-R will be arriving in Bangor, Maine on September 2nd where Steve will be flying in and meeting back up with the orange beast at Darling's Nissan.  Darling's Nissan has been kind enough to allow us to use their facility as a pick-up point for the GT-R.  Steve is already missing the GT-R and can't wait to get back behind the wheel.  That's OK though as he'll have a long trip from Maine to St. John's.  What's that?  We're driving the car all the way from Maine to the rally, then competing in the rally and driving it back?  YUP!  All STILLEN vehicle's are designed to be driven on the street as well as compete in the race.