With the emergence of the new 2016 Nissan Maxima, Nissan has allowed the vehicle to return to its roots.  Hailed by Nissan as the quintessential "four-door sports car," the new Maxima certainly has begun to live up to its name.  Sporting a fire-breathing, 300-hp 3.5-liter V-6, "spaceship-like" exterior styling, and a roomy, luxurious interior, the 2016 Maxima is a finely balanced machine that knows how to put the "fun" in function.  However, in order to help kick things up a notch, the team over at White Plains Nissan has added a STILLEN front lip kit and rear diffuser on their latest showroom 2016 Maxima!  The result of this package deal is now an aggressive, sporty ride that nearly any car enthusiast would love to have sitting in his or her garage.
New STILLEN Front Splitter and Rear Diffuser for 2016 Nissan Maxima
The new STILLEN front lip/splitter and rear diffuser have been designed and crafted to subtlety compliment the naturally aggressive lines of the 2016 Nissan Maxima, resulting in a look that ultimately appears to be an OEM addition.    Both pieces are constructed from durable and resilient polyurethane and can be installed with relative ease.  The front splitter provides moderate increases in both down-force to the front wheels and airflow through the radiator and heat exchanger.  The rear diffuser, on the other hand, can help increase the airflow underneath the car.  Of course, each STILLEN piece also helps improve the overall appearance of the Maxima as well!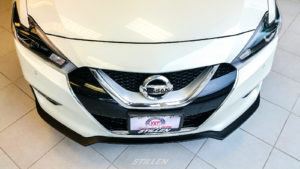 Part Number
STILLEN KB12841 Front Splitter – Matte Black
STILLEN KB12818MB Rear Diffuser – Matte Black
Other STILLEN 2016 Nissan Maxima Upgrades
In addition to the front splitter and rear diffuser, STILLEN also offers other upgrades for the new 2016 Nissan Maxima in order to help maximize the vehicle's look and performance.  These upgrades include:
Part Number
STILLEN 402967 Cold Air Intake
STILLEN 504399 Stainless Steel Axle-Back Exhaust System
STILLEN KB12844MB Roof Wing – Matte Black
Unmatched Customer Service at White Plains Nissan
White Plains Nissan is well-known throughout New York for their exceptional customer service and accommodating staff.  Every staff member at White Plains Nissan strives to provide a positive car shopping experience for each customer, free of the pressure and stress that often accommodates outings to other dealerships.  Ultimately, when a customer leaves the dealership, he or she feels as though they gained a family in White Plains Nissan, regardless of whether or not they walk away with a new set of keys.  Offering a wide selection of brand new Nissans and pre-owned vehicles, White Plains provides same-day test drives that are sure to put a smile on your face.  Also, the highly qualified technicians at their service center are sure to be able to accommodate any of your auto needs, ranging from oil changes to tire rotations.
To schedule your appointment with the White Plains Nissan sales staff, call (888) 711-1459 or stop by their showroom, which is located at 500 Tarrytown Rd White Plains, NY 10607.  To get ahold of their service center, call (888) 817-1271 or visit 31 West Post Road White Plains, NY 10606.  For more information, please check out White Plains Nissan's website.
Contact Us
If you have any questions about the STILLEN parts featured on the White Plains Nissan Maxima, please contact us by calling (866) 250-5542.  Our experts will be happy to answer any of your questions, make recommendations, and help you strategize how to maximize your Maxima in both its performance and style.