November 5, 2013
It's that time of year again.. thousands are burning up the 30+ miles worth of carpeted aisles at the infamous SEMA Show in Las Vegas!  The STILLEN Team is no exception, with a big booth introducing the world to the new AP Racing Radi-CAL line of calipers used in the STILLEN-engineered Big Brake Kits.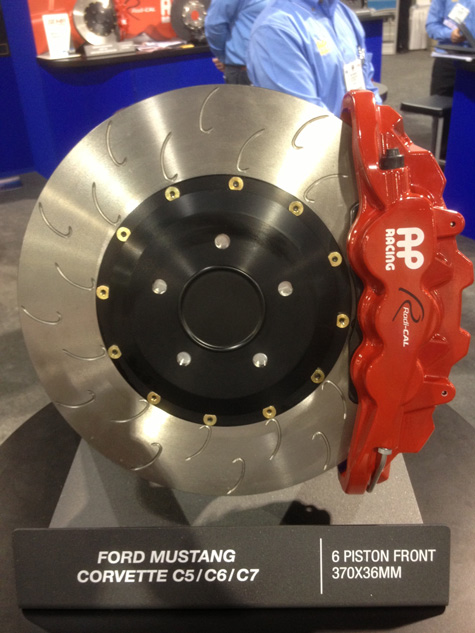 These new Radi-CAL road calipers get there heritage from the racing Radi-CAL high performance calipers launched in motorsports in 2007, which have been dominating the likes of F1, F3, NASCAR and countless others.  This new caliper design features a 2-piece aluminum body with H-structure, and a non-symmetrical design developed to have a large reduction in mass yet improved resistance to braking torque.  Another benefit is increased caliper cooling surface without decreasing structural rigidity.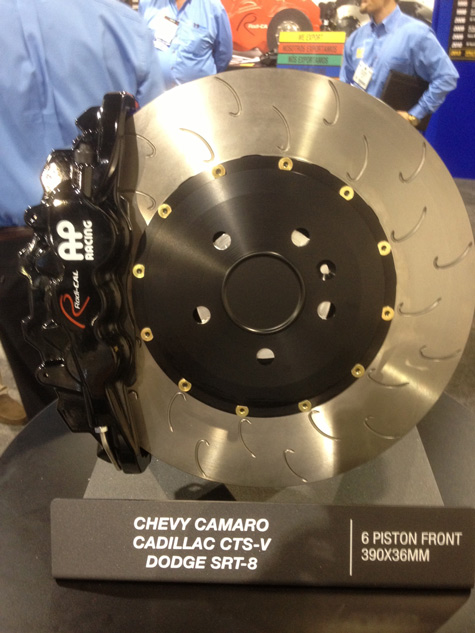 STILLEN has developed applications for many popular setups, which are listed below, and have plans to continue to grow the line.
BMW M3 applications
Chevy Corvette applications
We will be releasing much more information as we return from SEMA, and the response has already been overwhelming at it's introduction!
When nothing but the best will do, serious customers look to AP Racing and STILLEN.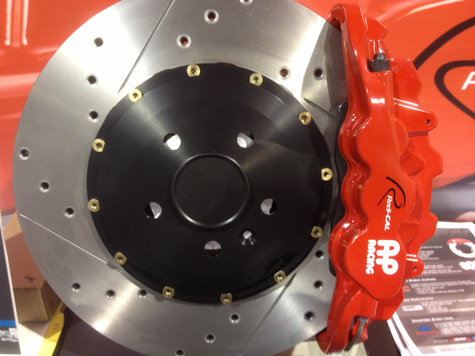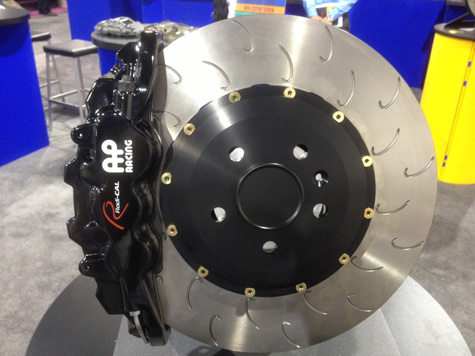 February 28, 2012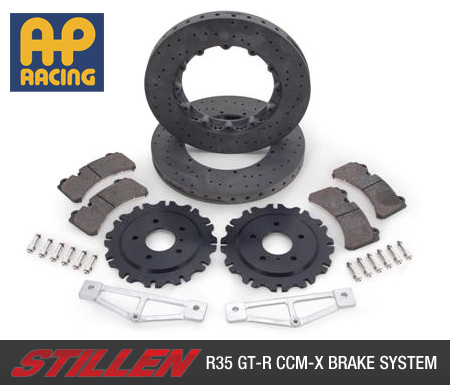 STILLEN Announces CCM-X – The next generation of Carbon-Ceramic Matrix Brakes for the Nissan R35 GT-R
The STILLEN R&D team continues to develop industry-leading performance products with long-standing technical partner AP Racing. Their hard work has resulted in the release of the next generation in Carbon-Ceramic Matrix (CCM-X) brakes for the Nissan GTR. This kit utilizes a new High Thermal Capacity (HTC) process which helps pull the heat from the CCM disc surface deeper into the 3D core to allow the discs to operate cooler through more efficient use of internal venting and air flow.
We have also homologated a new Pagid RSX1 pad material designed specifically for our new CCM-X discs for easier bedding and higher performance, these pads are ideal for use on the street and for track days.
The CCM-X disc assembly hardware has now been updated to include anti-rattle springs that still allow the full benefit of a floating disc, yet eliminates the "noise" associated with this style of disc.
During extreme performance testing at Auto Club Raceway in Fontana, CA, performing back-to-back repetitive testing runs pushing the limits of brake temperatures, the new combination of HTC CCM-X discs and Pagid RSX1 pad material reduced disc temperatures from an average of 1488F to 1346F, that's 142 degrees cooler than the previous generation CCM. These real-world tests confirmed the results of our brake dyno testing at AP Racings lab in Coventry, England.
Once found only on the world's most expensive supercars, Carbon-Ceramic Matrix (CCM) brakes have been developed for the first specifically-tuned aftermarket application – the Nissan R35 GT-R. These 400mm disc assemblies are larger than the standard OE iron discs, yet reduce weight by nearly half. This is rotating and unsprung weight, leading to improvements in all performance categories: acceleration, handling and braking.
After three decades of using carbon-carbon brakes on racing vehicles (even longer on fighter jets), AP Racing CCM discs are the next technological platform. Advancements in materials, process technologies and nanoparticle technology make it possible to use a special carbon fiber precursor along with new, patented process techniques. The unidirectional precursor is needled into a 3-Dimensional, continuous carbon fiber preform. This differs from lower cost technologies that use loose, chopped strand fibers and thin woven face plies bonded on as a friction surface. A true 3D matrix is stronger, more robust and provides longer life than the more brittle alternative. As a comparison, think quality hardwood versus particle board or MDF with a veneer.
Converting the 3D preform to carbon-carbon is done under high heat and pressure via methane cracking during a special carbon vapor infiltration (CVI) process. After initial machine work, a final conversion process results in a full matrix carbon-silicon carbide (CSiC). We call it Carbon-Ceramic Matrix, or CCM for short. The discs are then sent through the final machining, grinding, and balancing. Of course, the CCM discs are now so hard that only special diamond tooling can be used!
Who uses these ultimate CCM discs? The most up-to-date version is found on the Koenigsegg CCX and McLaren MP4-12C. And now – STILLEN and AP Racing have optimized a specific set for your R35 GT-R and its factory brake calipers.
The STILLEN-AP Racing CCM-X brake upgrade kit includes:
• Front & Rear CCM-X brake disc/hat assemblies
• Front & Rear Pagid RSX1 street & track use brake pads
• Caliper spacers
• Active brake cooling package required by Track Users (Not Shown – Sold separately and can also be used with Iron Rotors)
Note: Due to the dramatic reduction in overall mass, brake temperatures will run higher than the O.E. iron disc system given the same usage. STILLEN strongly recommends using AP Racing PRF brake fluid, one of the best high temperature fluids available. PRF is used in the most demanding Motorsports applications around the world.
Photos from Testing at Auto Club Speedway in Fontana, CA:
May 11, 2011
One of the more popular products we make for the Nissan GT-R has been the polyurethane Protective Skid Plate, and with the changes to the new 2012 GT-R's front lip, this required a new skid plate to be designed. Proud to announce we are in final development of the new version for the new model!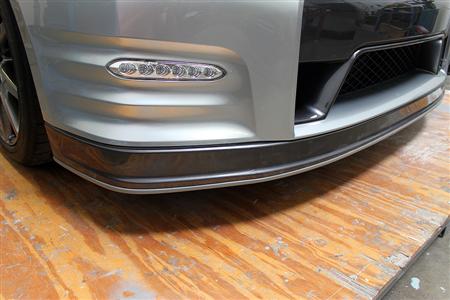 Here's a sneak peek inside the STILLEN modeling shop located in Costa Mesa, CA, and shows the final piece test fitted on the car before we sent it into mold preparation.  The final production part will be black urethane, sprayed with a black matte paint, and can also easily be painted to match any specific color if desired. Read more
April 6, 2011
Last month we brought you the information on the new high end Goodridge Phantom Gstop Brakelines, and as these are arriving soon, we wanted to get the word out, and get these in the hands of our customers, so we're giving away 2 sets for free!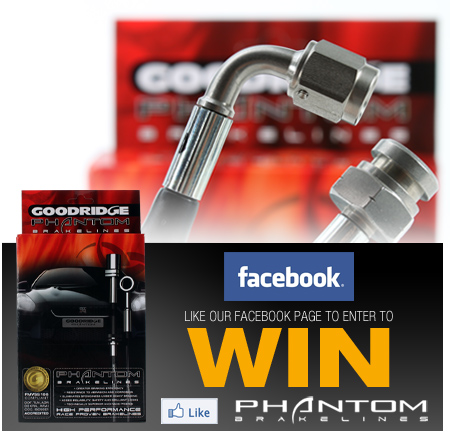 Simply head over to the STILLEN Facebook page, give us a 'Like' and you'll have access to the entry form on the Sweepstakes tab, just pop in your information and you'll be entered to win.  We'll be picking a winner on April 15th, and again on April 30th!
The Phantom Brakelines are new from Goodridge, and are designed to replace the factory rubber brake lines on your car, improving safety, reducing stopping distances and deliver a much better brake pedal feel, just like the popular Goodridge Gstop Brakeline kits.  The Phantom series upgrades the hardware and fittings to stainless steel, features a black coating on the stainless steel lines, a beautiful upgrade, and we couldn't encourage our customers more to consider upgrading your brake lines if you haven't already, it's an inexpensive upgrade that has huge benefits.
Good luck!  You can read the full giveaway rules here.
March 4, 2011
Goodridge has released information on their new limited edition Phantom Gstop Brakeline kits available for popular selected applications. For the ultimate brake line upgrade, look no further!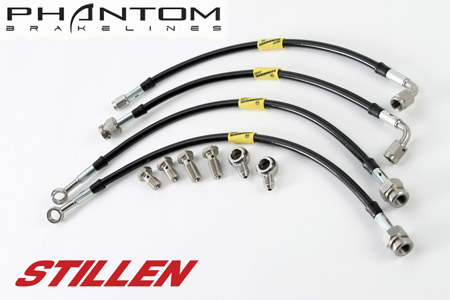 Upgraded stainless steel brake lines are one of the easiest modifications to make and get tangible results from.  Installing Goodridge G-Stop SS lines will dramatically improve brake pedal feel, eliminate the soft spongy feeling, and improve braking performance and reducing stopping distances.
The Phantom G-Stop kits take that performance and kick it up a notch, utilizing stainless hose ends, banjos and bolts, as well as feature black poly-coating to the stainless steel hoses.  Even the brackets and hardware are protective coated, creating a superior appearance, and ensuring durability. Read more