April 6, 2011
Last month we brought you the information on the new high end Goodridge Phantom Gstop Brakelines, and as these are arriving soon, we wanted to get the word out, and get these in the hands of our customers, so we're giving away 2 sets for free!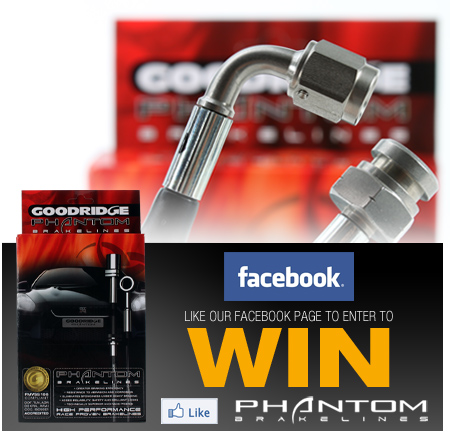 Simply head over to the STILLEN Facebook page, give us a 'Like' and you'll have access to the entry form on the Sweepstakes tab, just pop in your information and you'll be entered to win.  We'll be picking a winner on April 15th, and again on April 30th!
The Phantom Brakelines are new from Goodridge, and are designed to replace the factory rubber brake lines on your car, improving safety, reducing stopping distances and deliver a much better brake pedal feel, just like the popular Goodridge Gstop Brakeline kits.  The Phantom series upgrades the hardware and fittings to stainless steel, features a black coating on the stainless steel lines, a beautiful upgrade, and we couldn't encourage our customers more to consider upgrading your brake lines if you haven't already, it's an inexpensive upgrade that has huge benefits.
Good luck!  You can read the full giveaway rules here.
March 29, 2011
Just some quick pictures of some Password:JDM GT-R dry carbon pieces for a STILLEN customer, being consolidated with some other items for shipping.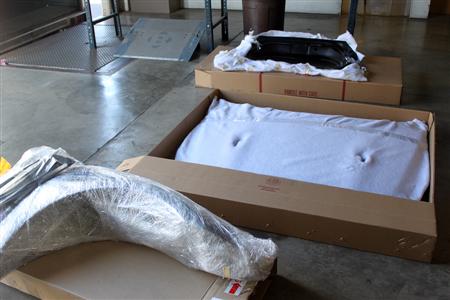 Inspection of these ultra lightweight parts really shows the quality that goes into them, and packaged well.
The widebody fenders in the front allow for the GT-R to run Read more
November 11, 2010
Every year towards the end of October, teams from around the world gather together in Auckland, New Zealand to start the 5 day Dunlop Targa Rally.  The Targa Rally is a grueling test of man and machine that takes place over closed country roads that would normally be open to the public.  The roads get closed down for just a few hours, just long enough to funnel 100+ "rally" cars through.  Competitors arrive in all types of vehicles, from a Ferrari F430 World Challenge race car, a Maserati and a few Porsche GT3 super cars to WRC-prepared Subaru and Mitsubishi rally cars, and even the older classic cars come out in force, like the old Mark 1 Escort's and even a Datsun 240Z with a supercharged LS2 engine and sequential gearbox.  2010 however was the year of Godzilla.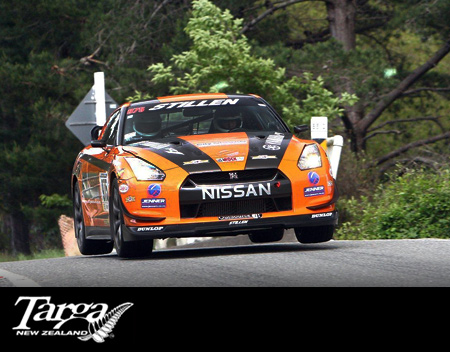 In the 2010 running of the New Zealand Dunlop Targa Rally there were four Nissan R35 GT-R's competing in the actual race, and one GT-R competing in the Targa "Tour", an event which takes place on the same closed roads and along the exact same route as the actual rally, the only difference being the Tour drivers are limited to a much lower top speed and do not compete for any sort of winner's prize.  The four GT-R's this year were piloted by some of the most experienced Targa Rally competitors, including Tony Quinn.  Tony has won 3 Targa's now and competes in Australia and New Zealand with his GT-R in numerous different Targa's each year.  Steve Millen took the STILLEN-prepared GT-R to the event Read more
October 29, 2010
Racing Day 5 Wrap Up!
I am in my hotel room writing this before Steve and Phillip get into the wharf for the final destination.  They have both done an amazing job and the entire team is very proud of the effort and hard work put in by all!  Steve pulled out some pretty miraculous skills this week and showed that he hasn't lost his edge.  Steve competes in very few of these rallies and really doesn't get much time to get back into the racing lifestyle anymore, so it took a day or two for him to feel fully comfortable with the car, but I'll tell you once he was in the zone he was a machine!  The in-car video footage and the photos tell the story better than I ever could!
 
The car has performed flawlessly all week and Mark and Joe have done a great job maintaining the car and making sure Steve and Phillip have exactly what they needed all week.  Jodi and Vivian (Phillip's wife) have been great team moms and looked after the service crew and the drivers better than anyone could have asked for.  We are all very happy to come home with the drivers and car all together in one piece and with a very Read more
October 29, 2010
Wellington is a lot like it normally is…Cold…Windy…and a high probability of rain!  Not a huge surprise yet very welcomed!  We are holding strong in third place and Steve drove hard today and won a couple stages chipping away time at Quinn and Inkster.  Inkster fought hard and also had a great showing and we are expecting tomorrow to bring an awesome battle!  All three vehicles are running strong and working hard!
Last night I was walking through the parking lot and noticed a car on a trailer covered by a tarp Read more