Earlier this month we said goodbye again to the STILLEN R35 GT-R after getting the call from Nissan that they would like to bring the GT-R back into Canada for the 2010 Canadian International Auto Show in Toronto.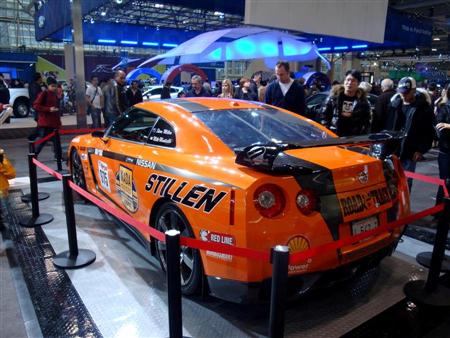 Nissan arranged for transport, and placed the Targa GT-R in the center of their booth, giving attendees a chance to get inches away from the Orange Godzilla and get a peek for themselves. The show runs through February 21, 2010. [Pictures & Video after the jump]
TBWA\Toronto, Nissan's agency in Canada put together this video of the GT-R on location at the show:

OFFICIAL NISSAN PRESS RELEASE:

Mississauga, Ontario – The Stillen GT-R that competed at the 2009 Targa Newfoundland will be on display at Nissan's booth at the Canadian International Auto Show in Toronto in February.

Race car driver Steve Millen and his Stillen crew completed a tear-down and build-up of the GT-R to compete in the Newfoundland tarmac rally race.

"Nissan is excited to provide GT-R fans with this special appearance," said Jeff Parent, vice-president of sales and marketing at Nissan Canada. "The Stillen crew showed us all just how mean 'Godzilla' can be, so we wanted to give fans a chance to get up close and personal to this great machine."

While many modifications were made, the major change was a weight reduction of 78 kilograms over the stock model, along with increased throttle response and appropriate suspension changes.

The Stillen GT-R reached 96 km/h in 2.9 seconds, compared to 3.5 seconds in the stock version.
Here's some photos of the GT-R at the event, taken by Ryan Cash with rwdftw.com:
If you haven't seen the STILLEN GT-R in action, here's a couple of in-car footage of stages during the 2009 Targa Newfoundland Rally:
STILLEN R35 GT-R – Brigus Stage – Day 5
STILLEN R35 GT-R – Gander Stage – Day 2